We don't do too much to celebrate Easter in our house, but we do gift the kids a small Easter basket each and wake up to pancakes and bunny shakes. Basically, we use Easter as an excuse to eat a heap of chocolate and have no regrets. I thought I would put together a post with all the details of how I created an Easter Gift Basket for under $20.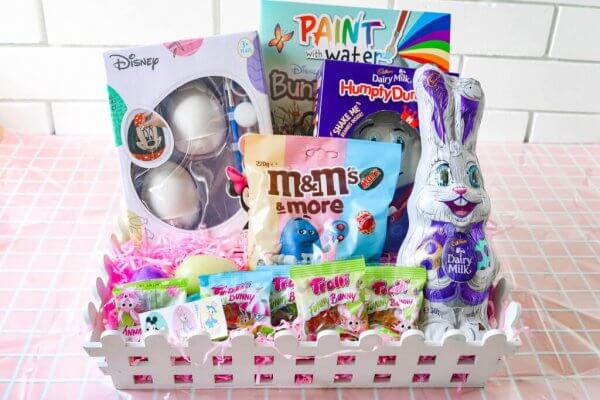 Some tips to creating an Easter basket for kids!
Set a budget! I set it at $20 which isn't a lot, but I think it's enough for my kids.
Look at other things you can include that aren't chocolate. I don't know about you, but I get sick of the darn chocolate and wrappers so I try and include a few things that aren't chocolate like crafts or colouring books.
If it's a change of season, you would also include pj's or slippers as a non-chocolate item.
Wrap the basket in cellophane to make it look even better! It's amazing what a $1 sheet of cellophane and some ribbon can do.
What I included
Chocolate eggs and bunny from Woolworths
Disney colouring book from Woolworths
Disney egg painting set (craft) from Woolworths
A small packet of Trolli lollies from BigW
I used filling in the bottom of the Easter basket from Kmart and wrapped it in cellophane with a bow.