I was so excited to visit King Fisher Bay Resort after hearing so many good things about it from friends who have previously visited. Now, this is not your average resort! It is on the world heritage listed Fraser Island and is an eco-friendly resort set back in tropical bushland on one of the most pristine locations off the Queensland Coast. Sounds amazing already, doesn't it? It was truly a unique experience for my family on every level! And I'm not kidding when I say we had already planned our next trip here before we had even checked out!
GETTING HERE
The ferry service leaves from River Heads, which is about a 3 1/2 hour drive from Brisbane depending on traffic. The service runs six times a day and takes around 50 minutes to get to Kingfisher Bay Resort from the mainland. It is recommended to book the ferry service in advance and check in at least 40 minutes before departure. You can find the ferry prices and timetable here! Now, you don't need to take your four-wheel drive over to the island, but we did decide to take ours, mainly to get all of our gear over! We had no intention of exploring the island via our four-wheel drive because we had zero experience and, knowing us, we would get bogged within the first 2 minutes!
Once you arrive at the island, you drive off the barge straight onto a wooden jetty with staff welcoming you to the island, how's that for service? As we left the jetty, we drove up through the amazing tropical rainforest to the main reception to check in to our Executive Villa. The main reception is about a 5-minute walk from the villas where you will find some of the restaurants and the main pool area. One thing you notice as soon as you step on this island is just how peaceful it really is (even with my kids on it ha)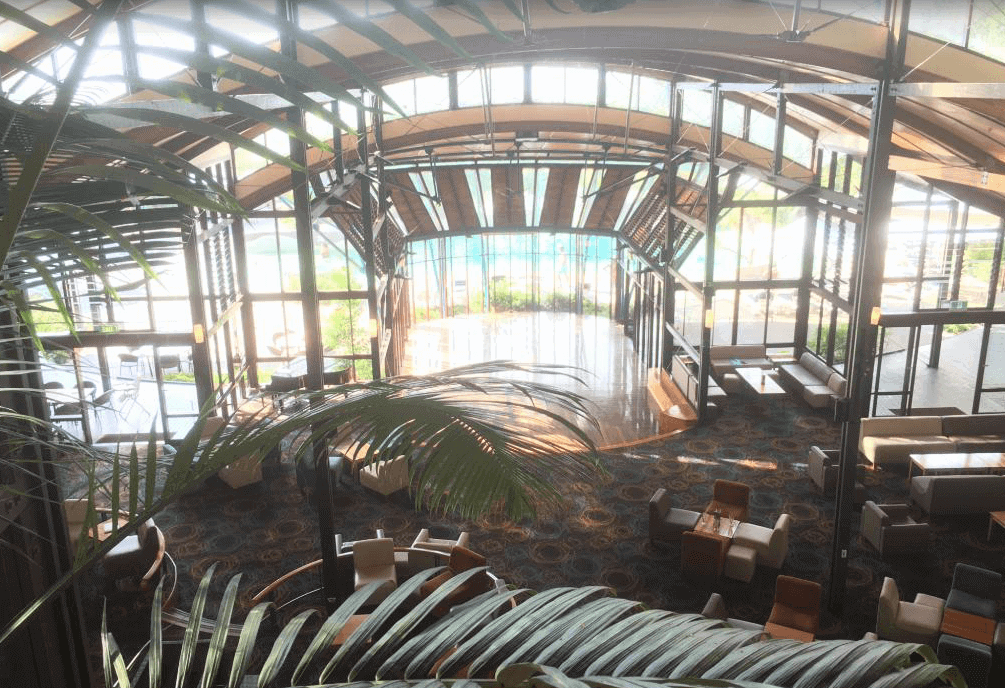 ACCOMMODATION
Hotel Rooms – The hotel rooms start at just $155 a night with interconnecting rooms available.
Villas – The Villas start from $240 a night, which makes them perfect for larger families like mine or families that prefer to have a full kitchen and laundry facilities.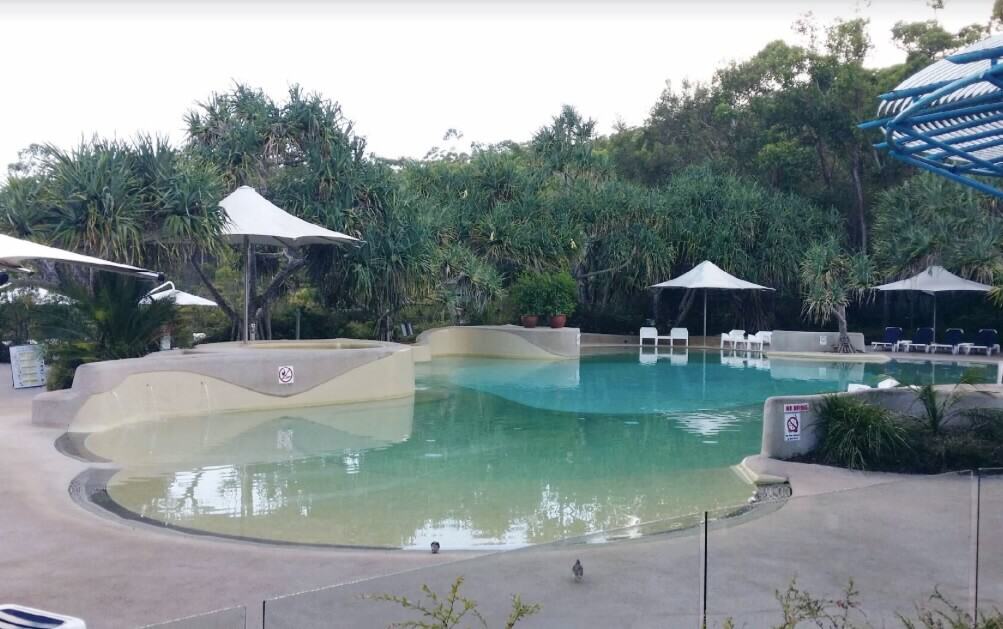 OUR EXECUTIVE VILLA
Set amongst the tropical bushland was our executive villa, which was just perfect for our family of 6 with three bedrooms, three bathrooms and full-sized kitchen/laundry facilities. Having a kitchen allowed us to our own food sometimes and enjoy meals on the huge outdoor deck. The villas are not connected to the central reception area which is a bonus, and it's only a short 5-minute walk down to the main pool. Everything was supplied in the villa, including towels, dishwashing liquid, washing powder, shampoo and soap and of course bedding. With all the activities on the island, we didn't spend much time in the villa, but the next time we plan to stay an entire week, to give us a little more downtime to truly unwind.
FOOD
Seabelle Restaurant – The Seabelle Restaurant is the resort's signature restaurant where the menu is crafted to blend seasonal cuisine, local fresh seafood and produce. Reservations are essential if you wish to dine at the Seabelle; you can book at the reception or via the Seabelle host.
Maheno Restaurant – The Maheno Restaurant overlooks the resort's main pool and provides the daily buffet breakfast. Along with the buffet breakfast, you will find a great lunch and dinner selection suitable for both adults and the kids.
The Sand Bar and Bistro – The Sand Bar and Bistro has a more laid back, relaxed atmosphere and is the perfect spot to dine with kids. The sand bar is open seasonally, so be sure to check opening times.
Sunset Bar – The Sunset Bar is the spot to hit up on sunset each night! The sunsets at King Fisher Bay are simply amazing, and you won't want to miss it!
THINGS TO DO AT THE RESORT
First, check the regularly updated "What's on Guide" to see what is available on your dates.
Fish feeding off the jetty.
Junior Eco Rangers – My kids absolute favourite thing to do!
Segway Tours.
Beauty Spots Guided 4WD Tour. Read about our day on the tour HERE!
Ranger Guided Walks.
Water Sports.
Relax in one of the many resort pools or spas.
Bush Tucker Talk and Taste.
Archery and Laser Skirmish.
THINGS YOU NEED TO KNOW
King Fisher Bay offers babysitting with 24 hours' notice.
Book tours and restaurants in advance at the reception.
Bring insect repellent if you plan on heading out at night.
There is a general store where you and buy food and supplies etc. but expect island prices.
HIGHLIGHTS
Junior Eco Rangers program – My kids are STILL raving about this program weeks later! This is a fully-supervised program catering to children between 5 and 14 years old. The kids will learn about the island, play some games, eat dinner or lunch and, if it's a night program, have marshmallows by the campfire. The program is $30 per child and is worth every cent! If there is one thing you must do for your kids during your stay, this is it! I promise you, they will love every second of it. You can read more about the program HERE!
Our family were invited as guests to stay at Kingfisher Bay Resort, and all opinions are my own, but as you can tell we absolutely loved Fraser Island and Kingfisher Bay Resort! I can't wait to bring our family back at the end of the year to explore some more, and we might even attempt four-wheel driving for the first time. You can read my post about Fraser Island HERE!