This post was created in collaboration with Big4 Adventure Whitsundays Resort and Tourism Whitsundays.
We recently spent an amazing five days in the warm Whitsundays and truthfully, we could not have picked a better place to go for a relaxing family getaway. I managed to source some cheap, last minute flights for under $110 return from Brisbane and we decided to hire a car so we could explore the surrounding areas with ease. However, just a few weeks before our trip, The Whitsundays had endured a cyclone, so we were unsure if we should even travel to the area, but after a few email exchanges, I found everything was fine and the Whitsunday's was officially open for business!

STAY 
BIG4, ADVENTURE WHITSUNDAYS RESORT, Airlie Beach
The Big4 Adventure Whitsundays Resort is an amazing family resort that very literally, has the whole family covered. As soon as we arrived at the big 4 Adventure, Whitsunday Resort, we knew we had officially arrived in paradise.
We couldn't fault a thing about our stay and the extra touches this resort provided, did not go unnoticed! When we arrived at the resort we received a thorough "what's on" guide with all the information and times of the activities available in the park. I promptly sat down with the kids and highlighted what they wanted to do, to be sure we didn't miss a thing!
What you'll find at the resort!
Water Slide and Resort Style Pool –  Oh, and they have a new 13 waterside waterpark set to open soon!
Two Jumping Pillows – One for the big kids and one for the little kids.
Huge Playground –  The playground area is suitable for young kids and older kids.
Animal Petting Zoo – Feeding the animals with the owner, Greg was a highlight of our whole trip. My city kids don't get the opportunity to get up and close to farm animals often, so they really enjoyed this experience.
Pedal Cars – These pedal carts are available for hire in both single and double carts.
Kids Club – Yes, you read it right! My kids along with me LOVE kids clubs and the big4 Whitsundays didn't disappoint.
Movie in the Park – The movie in the park was a highlight of our stay! The kids thought sitting out in the open air watching the movie was the best thing ever.
Pancakes For Breakfast Along with Spit Roast Nights – The pancakes for breakfast were a treat and all for a gold coin donation. Unfortunately, we missed the spit roast as we were out on the cruise for the night.
There is only one issue with staying here; THE KIDS DIDNT WANT TO LEAVE! We could easily have spent our full four days just hanging out at the resort.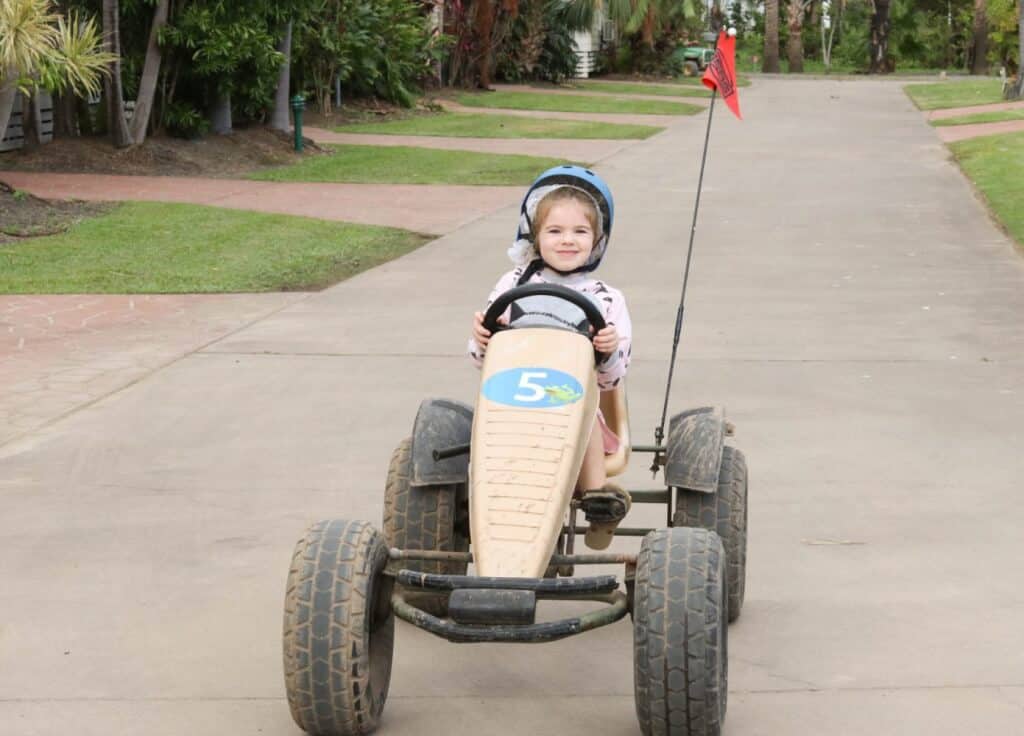 DO
Day Cruise to Hamilton and Whitehaven with Cruise Whitsundays. We took the whole family on this full day adventure of Hamilton Island and Whitehaven beach. The kids got to snorkel for the first time and explore the magnificent islands. We didn't have to worry about a thing on this cruise with lunch, snacks and gear all provided by Cruise Whitsundays.
Day Cruise Great Barrier Reef with Cruise Whitsundays. We have this on our list to do next trip!
Montes Reef, Hidden Bay Area –  It doesn't get much better than this spot! You will need a car to get here as you need to travel down a dirt road and cross a very shallow creek. We were the only ones on this stretch of beach in the morning, and once we found the beach swing, the kids wouldn't get off it. There is a cafe/pub on the beach that is open for lunch, but we arrived a little too early for that.
Cedar Creek Falls – There was some recent rainfall before our stay, and the waterfall was flowing. Although we didn't go swimming, the kids loved exploring this place.
Weekend Markets, Airlie Beach Foreshore – The markets are on each Saturday morning between 8 am – 12 pm. Entry is free and you'll find everything from arts to fresh produce.
Day Trip to Bowen – We decided to spend one of the rainy days driving to Bowen which took us just over an hour. We managed to find the lookout which had an amazing view and we had lunch at the local tavern. We were limited to what we could do on a rainy day but we still had so much fun exploring!
Eat Like A Local – Check out some of the places I've listed below!
Whitsundays Crocodile Safari – We were recommended the crocodile safari but unfortunately we ran out of time on this trip. We are planning to head back next year and I'll make sure we fit it in this time!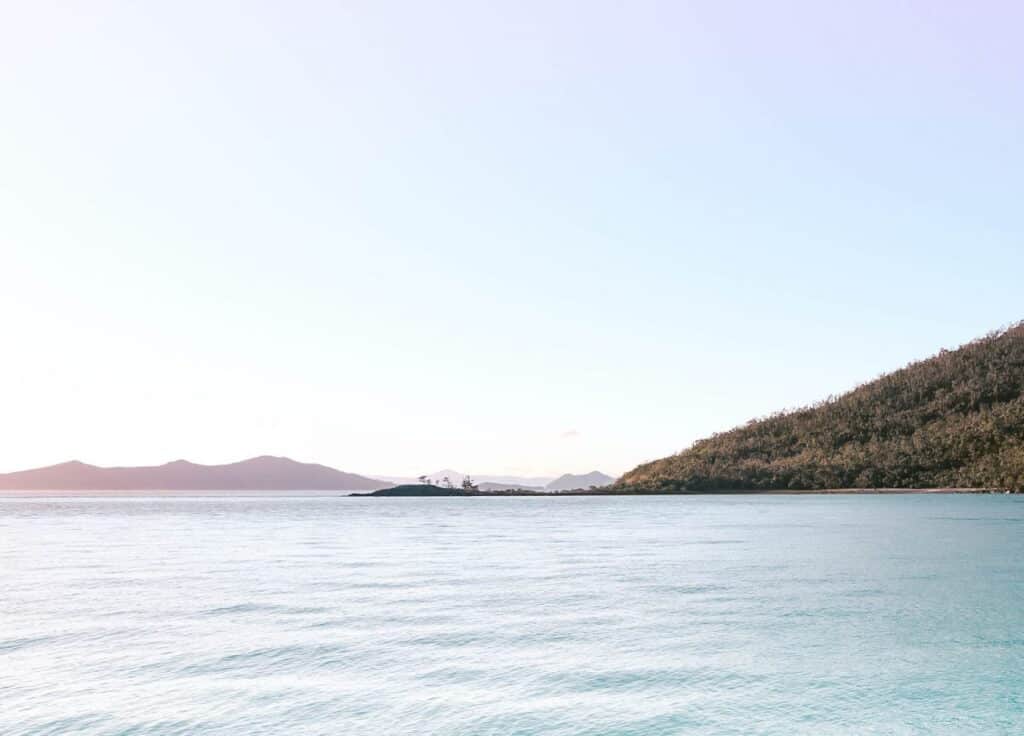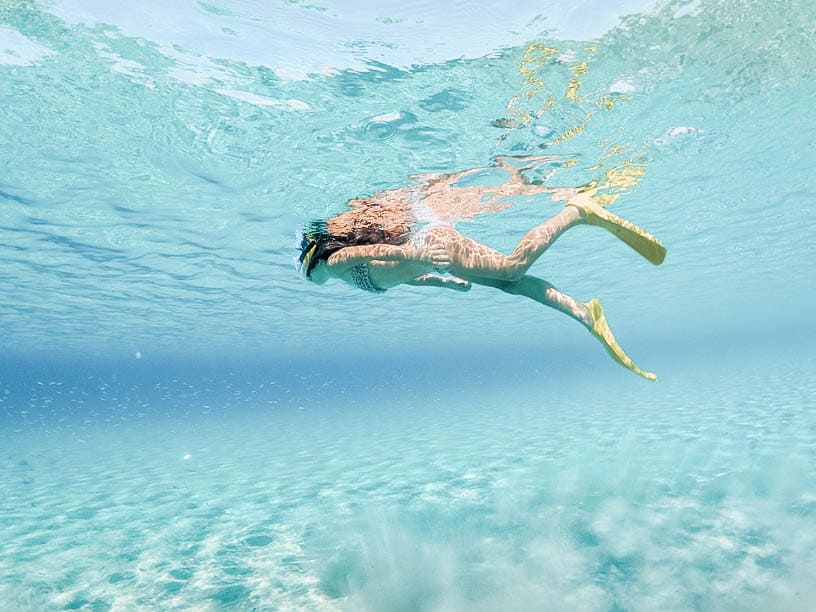 EAT
Cafe One 3 – Specialising in Vegetarian, vegan and gluten-free dishes this place has a nice selection of healthy cafe style food.
Jubilee Tavern – We found this by driving past when we spotted the playground. The quality and size of food were great for the price and the playground was a brilliant bonus.
Fat Frog Beach Cafe – You can't go past the waterfront views and tasty food served up at this cafe.
Sidewalk Cafe – We had an amazing breakfast here and I was told they serve some awesome cocktails too! (next time!)
Have any of you travelled to the Whitsundays or planning a trip sometime soon? I'd love to hear if I missed anything good so I can add it to my list for our next adventure!