This post is a collaboration with Grand Mirage Resort Bali
This was our first overseas holiday since covid and let's just say I think we picked the perfect destination and resort to kick it off travelling internationally again. The Grand Mirage is located in Nusa Dua on the island of Bali. It is around a 20 minute drive to the airport and is away from the hustle and bustle of the Kuta area. We loved the location being away from the busy parts, but still being close to everything we needed. You can still do day trips and have access to everything you need in Nusa Dua. If you're heading to Bali, make sure you read THIS post with everything you need to know about travelling to Bali, including current entry requirements.
This was our first ever all inclusive resort and let's just say we're hooked! When I say all inclusive, I mean ALL INCLUSIVE. This resort included everything you could ever need in the gold all inclusive package. We didn't plan any outings as we wanted to soak up and experience what the resort had to offer, and it was the best decision for us.
We stayed 5 nights in the 2 bedroom suite, which slept 5. It had 2 bedrooms (one with 2 queens and one with a king bed), 2 full sized bathrooms, a fridge, balcony, table and lounge area. The room was huge and more than enough for 5 people although we didn't spend much time there.
What the gold all inclusive package included
All meals - including breakfast, lunch, dinner, snacks and room service. You can eat as much as you like and when you like (only lobster and prawn not included, but clearly marked on the menu).
Unlimited beverages - We had cocktails, Bintang beer in a bottle, and the kids had endless mocktails and milkshakes.
Mini bar - It is restocked daily with beer, non alcholic drinks (soft drinks, juice and water) and wafers.
Water Sports - Kayak, windsurfer and catamaran. If you are staying more than 6 nights, you also receive a motorised water activity (jetski, banana boat, dounut or speed boat) to select included in your package.
Laundry service - 2 pieces of laundry per day per person (does not apply to dry cleaning). The benefit is accumulative; for example, stay 3 nights and receive 6 pieces of laundry per person.
Cultural show and dinner - It's an outdoor show with a large buffet dinner. The kids club also have a corner set up for the little ones to have some fun while the show is going on.
Rooms
Main Resort
Garden View (4 people)
Ocean View (4 people)
2 bedrooms (10 people)
Ocean view suite (4 people)
Family Paradise Wing
Family Studio bunk (5 people)
Family studio queen (4 people)
Kids suite (5 people)
Junior suite (5 people)
Girls suite (4 people)
2 bedroom suite (the room we stayed in sleeps 5)
3 bedroom ocean view ( 12 people)
Resort
The resort is split up into 2 sides, the family paradise wing and the main side. We loved that there was a whole side (the family paradise wing) dedicated to just families! In the family wing, you will find the mini water park, kid's club and pool with the blue side, and on the other main wing, you will find most of the restaurants and main pool with swim up bar. Rooms on the family paradise wing are modern and newer, whereas the rooms on the main side are Balinese style (but still great). You won't be in your room much here anyway with so much to do at the resort, so you just need a place to sleep.
For the kids
This resort is all about the kids! We spent the full 6 days here and my kids didn't want to leave.
Kids club
Mini water park
Kids pool with slide
Turtle release (seasonal - contact the resort for dates)
Games room
Daily organised activities
Water sports
Volleyball
Free bike rental
Kids menu with mocktails
Cooking classes
For the big kids (aka adults)
Adults only infinity pool
Panorama lounge with live nightly music
Swim-up bar
Bike rental
Water sports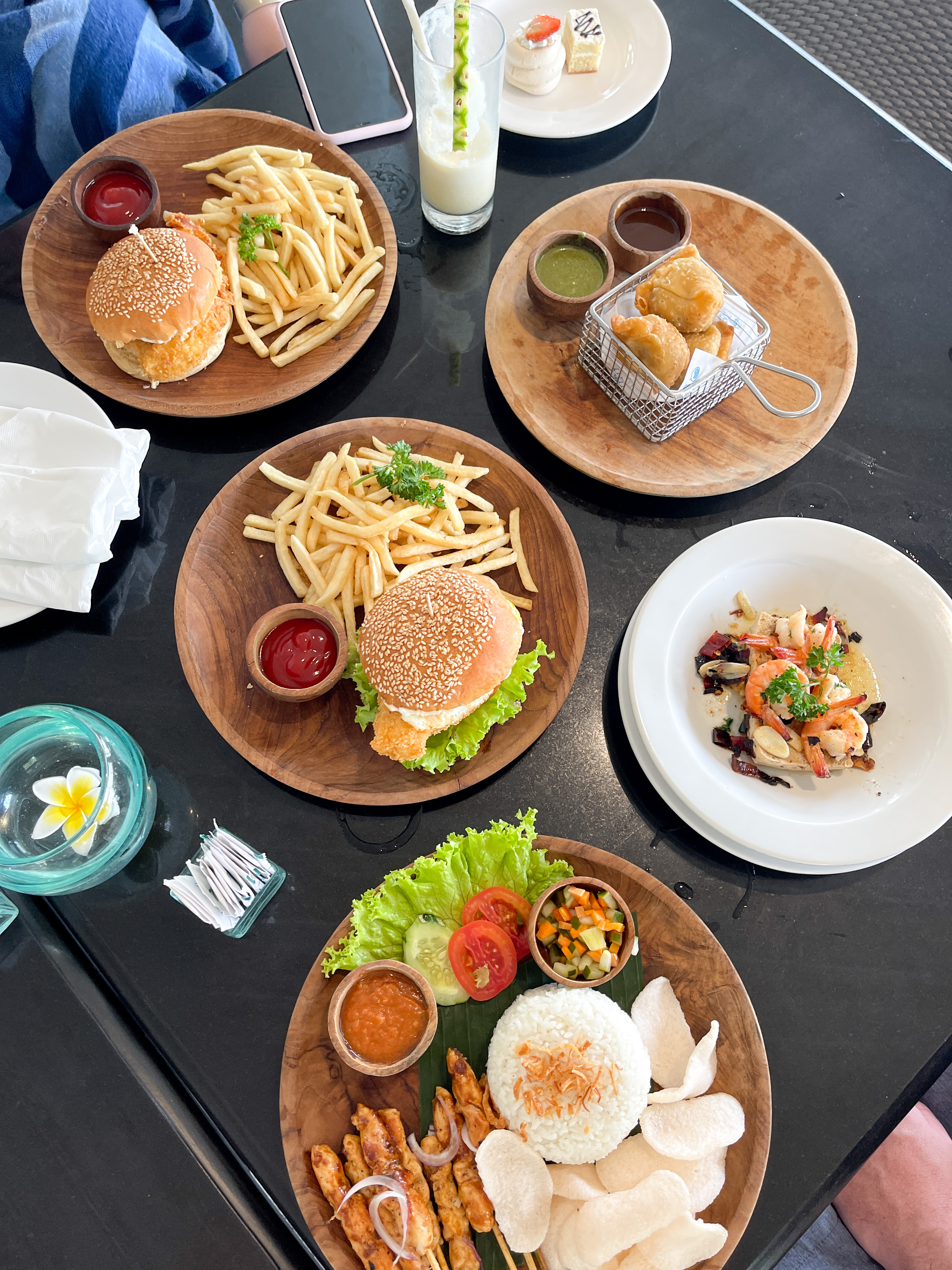 Food
Grand Cafe (open 24 hours)
Junkung and Julies Italian
Bumbu Delhi
Mahi (poolside bistro at family wing)
Chopsticks Chinese restaurant
Ibu Kitchen (family wing side)
You can find the full menus here: MENUS
Other things you should know
Convenience store - you will find a convenience store right next to Starbucks which should have everything you need.
We used the money changer at the resort, which was a safe way to change money. DO NOT use money changes on the street, no matter the rate. If you do, only use BMC glass door money changes.
Market stall holders - you will find these all along the street and also in the beachside area of the resort.
Check out my post with everything you need to know about visiting Bali and join my Family travel group.