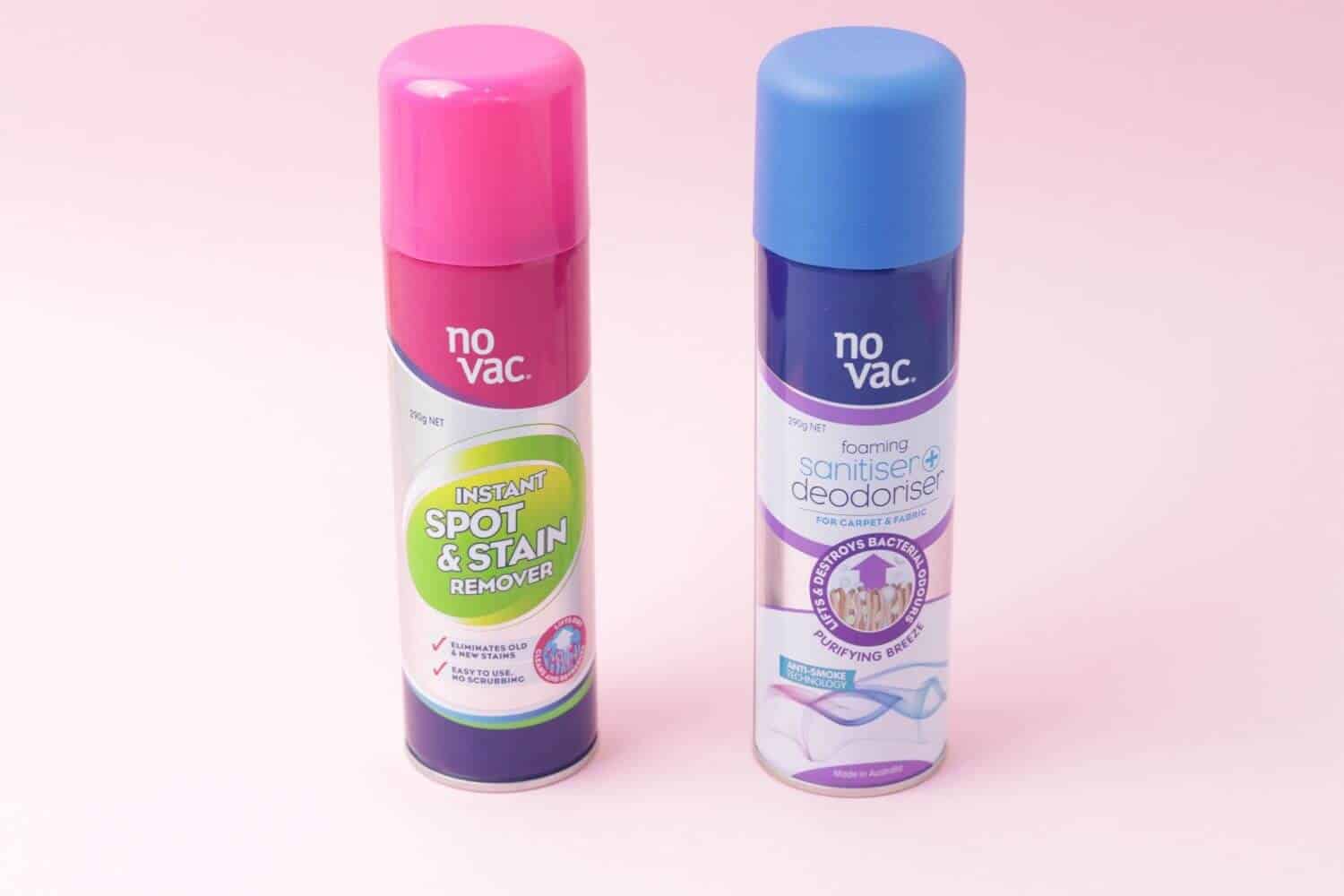 23 Sep

Game-Changing Cleaning Hacks and Tips for Busy Mums

This post is a collaboration with No vac

I thought I'd share with you some of my best-ever cleaning hacks, the ones which have changed the way I clean by saving time and scrubbing power. Let me show you how to clean virtually anything… in no time at all.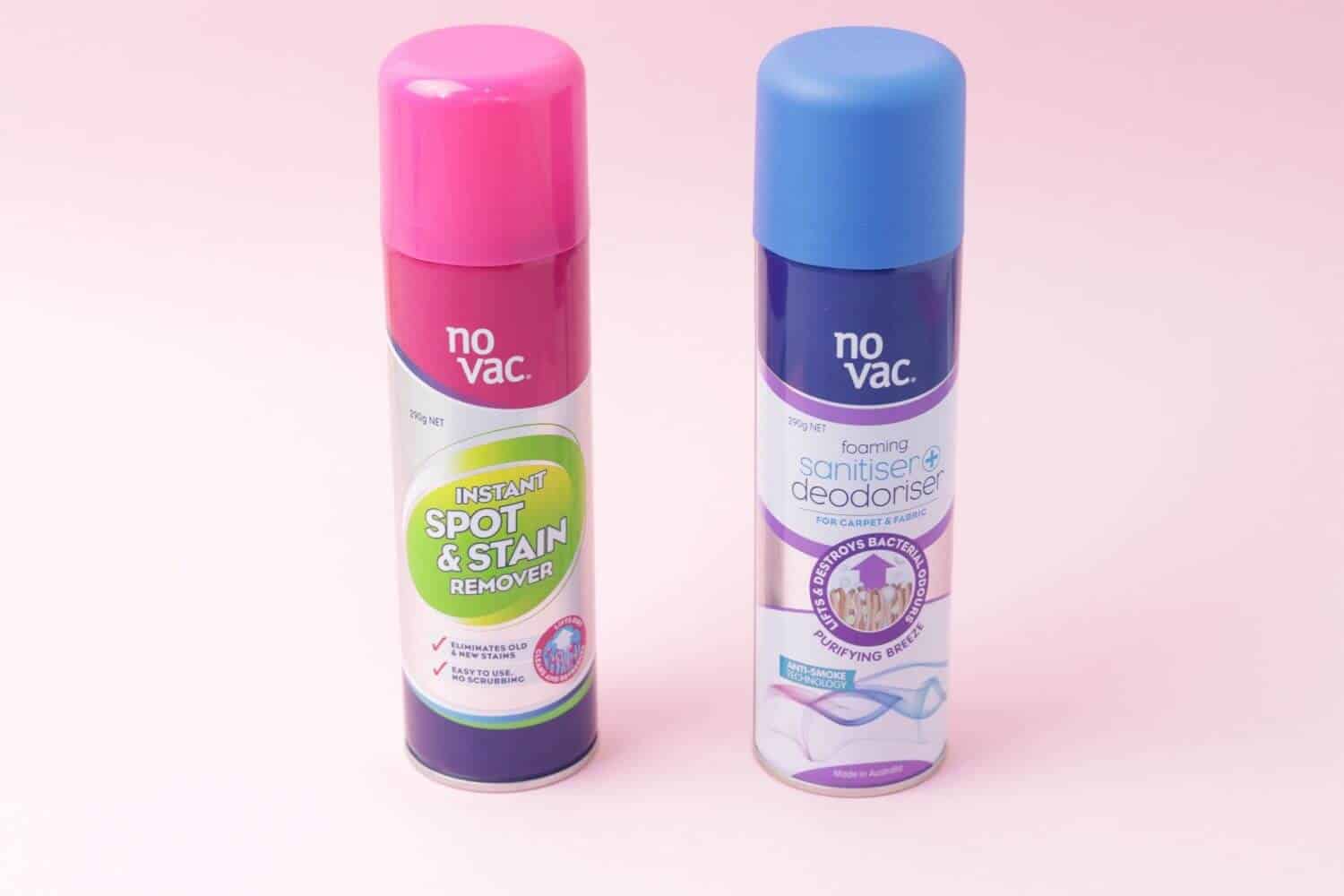 One
Carpets and Rugs 
What you'll need: No vac products
Want to get a fresh-carpet feel instantly? Simply finish off your carpets with No vac! The no vac range of products is designed to freshen carpets and fabrics without the need for vacuuming (hence why it's called no vac). I've been using the range for the past few weeks and I can't recommend them enough.
The Sanitiser & Deodoriser foaming mist penetrates deep down into the fibres of carpets and fabrics to instantly combat odour-causing bacteria (from whatever you can imagine!). You only need to use a thin layer, so a little goes a long way. 
If you have some stubborn stains on your carpet, you'll need the No vac Instant Spot & Stain Remover, which has been formulated to work on stubborn stains with minimal effort required from you. There is NO scrubbing or rubbing to remove the stain (my kind of stain remover) and leaves no messy residue. 
You can find the no vac range in Woolworths stores. 
Two
Microwave 
What you'll need: water + white vinegar
This has to be one of the best hacks if you have stubborn, baked-on food in your microwave (it happens to the best of us). Simply fill a glass bowl with water and a quarter of a cup of white vinegar and heat on high for 2 minutes. Carefully remove the bowl from the microwave and wipe the interior of the microwave straight away. All the baked-on grease and food will wipe straight off. Leave the microwave door open for a few hours to dry out. 
Three
Washing Machine 
What you'll need:  vinegar + bicarb soda
Sprinkle half a cup of bicarb soda in the washing machine and add one quarter of a cup of vinegar to the washing detergent section of your machine. You can select a tub-clean option if you have it, or a quick wash will do. It's best to use hot water for this to clean out all the residue and gunk. 
After the wash, make sure you use a toothbrush or microfiber cloth to clean under all the rubber parts of your machine. Oh, and don't forget to empty the drainage basket and scrub it too. My washing machine manufacturer recommends I put a towel in the wash and never put on an empty load, so make sure you check before putting on an empty load (or shove a dirty towel in any way- it will come out sparkling). 
Four
Dishwasher
What you'll need: bicarb soda and white vinegar
Did you know you should clean your dishwasher at least once a month? All you have to do is sprinkle some bicarb in the bottom and add a dash of white vinegar and let it run on a quick wash. Remove the filter when it's done and give that a wash, too. You will be surprised at how clean and shiny it is on the inside when you do this. 
Five
Oven 
What you'll need: bicarb soda and vinegar
Make sure you use a sponge with a scratch-free backing to protect your oven glass from scratches when cleaning. Sprinkle vinegar and bicarb soda in the oven and give it a little scrub. There is no need for heavy scrubbing with the 2 ingredients doing most of the work. Most of the grease should just lift away! 
Six
Stove-top vents
What you'll need: dishwasher
That's right, you can pop these in the dishwasher and run a cycle to clean all the fat and dust build-up. They come out super clean and this is easy to do regularly as it requires little work from you.
Seven
Walls 
What you'll need: use a flat-floor mop –  3 squirts dishwashing liquid, 4 tablespoons white vinegar and hot water.
I swear by this as a wall cleaner. I use a flat-floor mop to dip into the mop bucket and wipe over the walls. The mop helps to reach up the top and makes things heaps easier. Make sure you dry the walls when they are clean with a microfiber cloth or old towel. 
Eight
Stainless steel 
What you'll need: coconut oil
I mentioned this to a friend a week ago and she was amazed at how well it worked. I've heard other oils work too, but I've only tried coconut oil. You only need a tiny amount, which goes a long way, and a microfiber cloth to buff in circles. Your stainless steel surfaces will be sparkling like never before!
Nine
Glass 
What you'll need: vinegar and water
No need for harsh chemicals to clean your windows and doors around the house. Simply mix a dash of vinegar in water and use a microfiber cloth to clean the glass and another one to dry it off. You will have streak-free squeaky clean glass in no time! 
Ten
Multipurpose 
What you'll need: baby wipe
I swear baby wipes have magic powers and they can be used on so many surfaces. I keep a few packs on hand even though I no longer have little ones in nappies and I  use them regularly. You'll be surprised at how useful they can be. They are great for skirting boards, door frames and cupboard fronts. Because they are safe for kids to use, you can get the kids to help out (now that's a cleaning goal!).
Do you know any game-changing cleaning hacks? I'd love to hear them.