Brought to you by Vitasoy
Let's face it, some kids can be fussy eaters (like mine), and it can be really hard to provide them with a balanced diet when they refuse to eat certain foods. I was struggling and nearly ready to give up altogether when I FINALLY found an easy way that works with my kids. Now I simply sneak plant-based foods in with my regular baking or cooking, which most of the time goes entirely unnoticed by my girls. I now know my little ones are getting what they need each day to fuel their bodies without forcing them to eat the foods they simply don't like. Winning mum moment! HOORAH!
At the moment, I'm working with the team at Vitasoy to help promote their range of plant-based milk, which quite frankly, came at the PERFECT time as I was making the switch to eating better. The Vitasoy Unsweetened Coconut Milk used in this recipe helps bring the coconut flavour to life! While trialling the Vitasoy range, I found it really easy to incorporate their plant-based milks into my family's diet simply by adding it to and using it in my regular cooking, baking and creating. It has become the feature ingredient in our morning shakes (you can find that recipe on my Instagram), our homemade ice blocks and in my favourite chia & vanilla pudding. Incorporating Vitasoy has truly been super easy (and delicious)!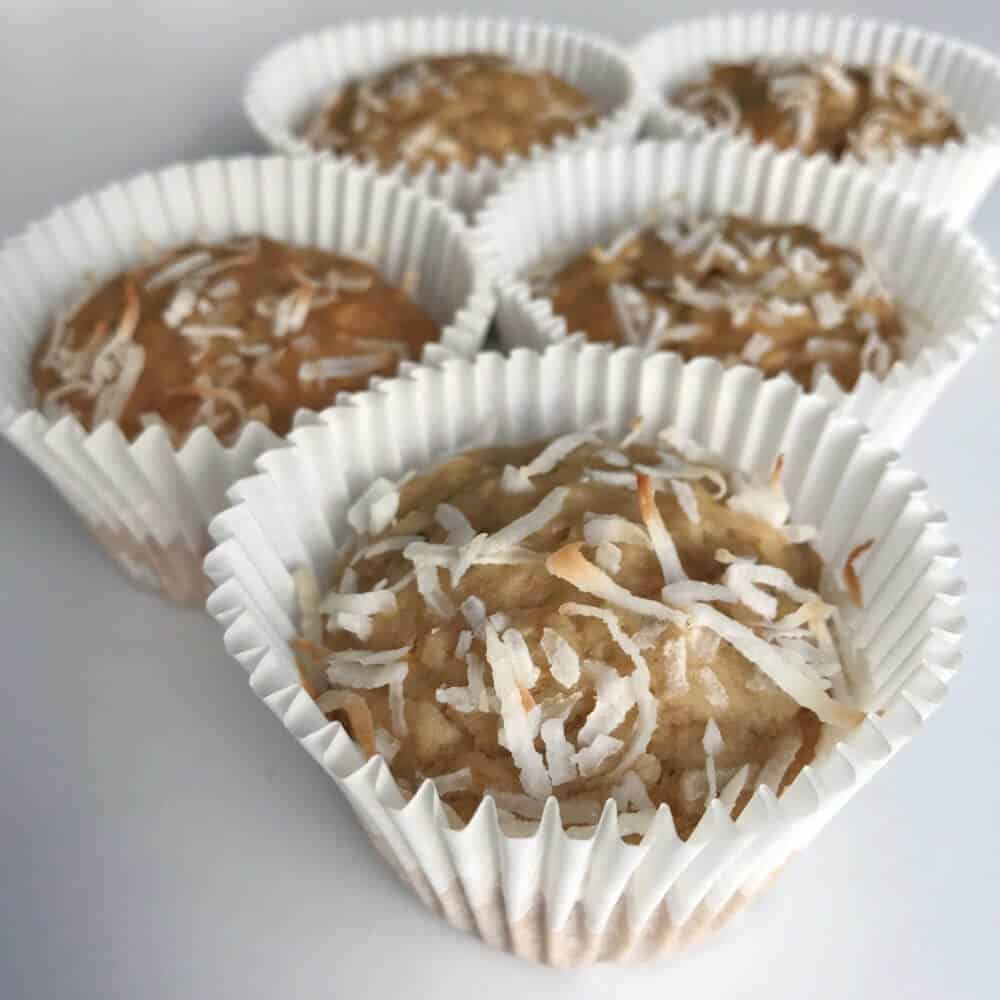 Banana and Coconut Muffins
These banana and coconut muffins are moist and full of flavour the kids will love! I like to double this recipe and do up a large batch that I individually wrap and freeze all ready for school lunches. These muffins are not just for the kids, but definitely for adults too! I also like to have a cheeky muffin for afternoon tea and can now enjoy it without having the guilt!
Ingredients 
3/4 cup plain flour, sifted
1/2 cup wholemeal flour
1 1/2 teaspoons baking powder
1/4 teaspoon table salt
1/3 cup raw sugar or coconut sugar
3/4 cup shredded coconut
1 cup banana, mashed
1 teaspoon vanilla extract
1 large egg
1/2 cup coconut milk
1/2 cup full-fat yoghurt
Directions 
Preheat oven to 180°C and line a muffin tray with 12 with muffin cases.
In a large bowl, add all dry ingredients and mix.
In a medium bowl, combine all wet ingredients together.
Add wet ingredients to the dry ingredients and mix well.
Transfer mix to muffin cases and sprinkle tops with extra shredded coconut.
Bake for around 20-25 minutes until golden and cooked through.
I would love to hear any tips you have on getting your fussy kids to eat well. Share your secrets with me!