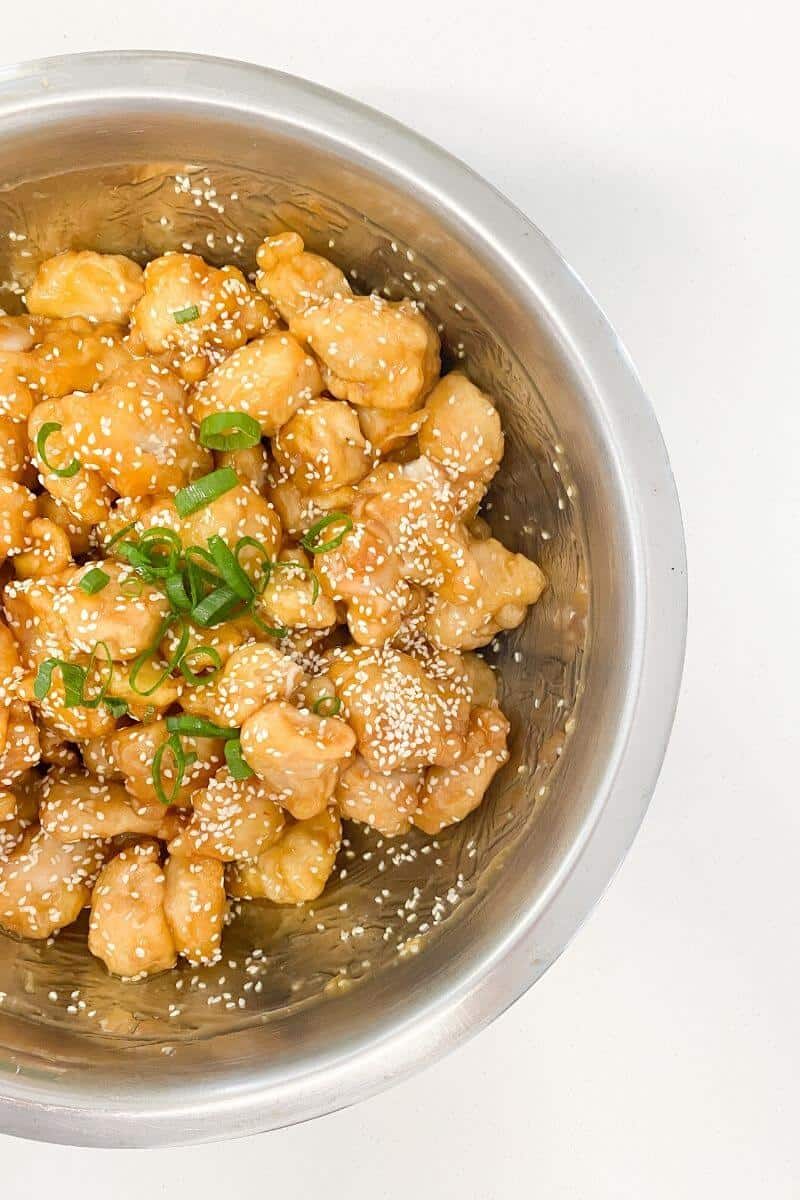 11 Jun

Honey Chicken (take away style)

Honey chicken is one of my favourite take away foods! The crispy chicken, with the sweet honey flavour gets me every time. It's actually pretty easy to make it at home and you will save a bunch too! I like to call this "fake away" honey chicken (aka take away style honey chicken). This recipe will make enough for a family of 4 with leftovers, but I doubled the recipe and it made enough for a family of 6 with leftovers. I recommend you double it because let's face it, you will want leftovers of this recipe.
Tips
You don't have to deep fry the chicken. A shallow fry works perfectly fine. Just make sure you turn the chicken so that it evenly cooks and browns.
Make sure you use ice water for the batter. You can keep pieces of ice in the water and make sure it's mixed well and melted in the batter before adding the chicken. Having a super cold batter will make for a crunchy and thick coating on the chicken.
Serve the honey chicken with either fried or plain rice.
Ingredients
500 grams chicken breasts – diced
1 teaspoon minced garlic
Vegetable oil for frying – you want this to be about 3cm deep
3 tablespoons sesame seeds
Batter
1 egg white
½ cup plain flour, sifted
¼ cup cornflour
½ teaspoon baking powder
½ cup ice cold water
1 teaspoon oil
½ teaspoon salt
Honey Sauce
½ cup pure honey
½ teaspoon apple cider vinegar
½ teaspoon tomato sauce
1 teaspoon cornflour
½ cup water
1 teaspoon salt
Instructions
Chicken
Heat oil on a medium heat in a frypan. You will want the oil to be around 3 cm deep to fry the chicken. You don't have to deep fry the chicken, a shallow fry will be just fine.
Mix all batter ingredients together and whisk until combined.
Add the diced chicken to the batter and mix.
Once the oil is heated, drop pieces of chicken into the oil with a tablespoon. Be careful not to overcrowd the pan. Move the chicken around in the oil to make sure it's cooked evenly. Cook the chicken until lightly brown (this should take around 5-10 minutes depending on how thick your chicken is).
Remove chicken and drain on paper towel.
Place chicken in a large bowl and set aside.
Sauce
Mix all sauce ingredients together in a bowl.
Heat a saucepan on a medium heat.
Add the oil and garlic to the frypan and fry off for 1 minute.
Add sauce mix and bring to a simmer (around 3 – 5 minutes).
The sauce should be thick and a honey-like constancy.
Remove sauce from heat and pour over the chicken in the bowl.
Mix chicken to coat with honey sauce.
Add sesame seeds to chicken and mix.
Serve this honey chicken with rice and chopped shallots to garnish.
I hope you enjoy this chicken as much as my family do!