My kids love the store bought tiny teddy biscuits, but they are expensive when buying for four kids, so I decided to create my own. This recipe makes over 300 teddies, so they are sure to last you for a while. The Ted cutters are from eBay for around $3 for a set of 3 different sizes. If you want to make different shapes, Kmart has star and heart cutters that work for $2 a set.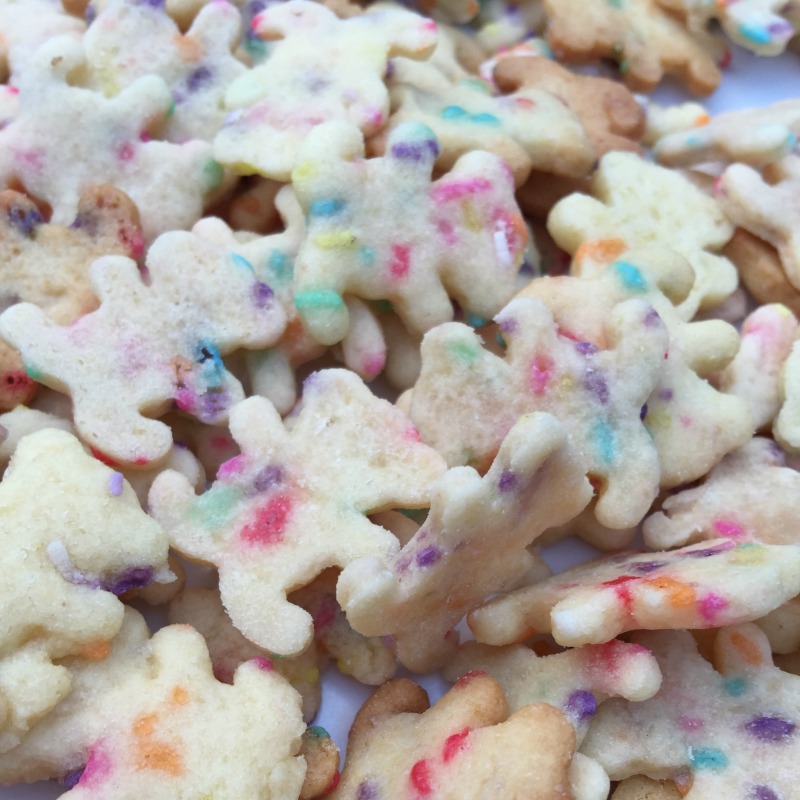 Ingredients
1/2 cup (125g) butter, softened
2/3 cup (150g) caster sugar
2 1/4 cups (300g ) plain flour, sifted
1 egg
1 tablespoon of milk
1 teaspoon vanilla essence
1/4 teaspoon baking powder
Variations: You can keep these plain or add 3 tablespoons 100's & 1000's on top like the ones pictured. For chocolate flavoured teds, you can add 1 1/2 tablespoon of cocoa powder when you add in the remaining ingredients.
Directions
Mix butter and sugar together with an electric mixer until light and creamy (around 40 seconds).
Add the remaining ingredients and mix for around 1 minute until combined.
On a floured bench, knead your mixture into a ball and wrap in saran wrap.
Place in the fridge for at least an hour for the dough to set. Don't forget this step – otherwise, the dough won't hold together enough to roll out.
Preheat oven to 160°C, line a baking tray with non-stick paper and remove dough from fridge.
Knead well until the dough comes together. Roll out thin (around .4cm) on a well-floured surface and start cutting out using your cutter.
Place on baking tray and bake for around 8-10 minutes. Watch them carefully as they can burn fast! You can remove them when they are still soft as they will harden when they cool.
Once cooled, you can store them in an airtight container for up to 2 weeks.