This post is a collaboration with the Brisbane Airport 
I don't know about you, but I like to plan everything out for our family holidays, so I can be more than prepared – especially when travelling with kids. After all the excitement of planning a family trip, the last thing you want is a stressful, rushed airport experience. With a little planning and the following tips, you'll be ready for your overseas holiday stress free.
Arrive early!
If you're flying internationally with your family, I recommend arriving four hours before your flight. I know it seems like a lot of time, but once you clear security and customs, you'll want to have a little down time before you board your flight and fit in some of my suggestions below.
Take a family photo
It should be a rule for every holiday to snap a family photo at the airport prior to going through security. The best thing about taking the photo prior to security is having your family and friends included in the photos.
Shop duty free
I'd have to say one of my favourite things about travelling internationally is the duty free shopping at Lotte Duty Free. Not only do they have some great things for mum and dad, but they have a great range of kids' goodies too. They have the cutest Chupa Chups packs for the kids and plenty of treats to take on board.
Have a meal before your flight
We all know airline food isn't the best, and if you have fussy kids like mine, you'll struggle to get them to eat plane food altogether. I recommended you grab a table at Windmill & Co and have a good-quality meal that will tide you over for your flight. This is something we always do before an international flight and find it works well for the kids, too. Did I mention you will have the best view of the planes and runway here? Try and grab a table close to the window so the kids can watch the planes take off and land. If you don't have time to sit down and have a meal, you'll find a great range of quick meals and snacks available at Subway, Burger Urge, or even a smoothie from Boost Juice.
Allow the kids to play
Brisbane International Terminal has a large, open area for the kids to play on an interactive screen with fake grass and plenty of seating for parents to stay close by while the kids play. It's the perfect spot to let the kids have some fun and burn off energy.
Stock up at News Travels
We have a little travel tradition of buying the kids gum, a treat and a magazine each prior to flying anywhere. This is something my kids talk about as soon as they know we're off on another holiday. You'll find a huge range at News Travels with books suitable for young kids and teenagers, as well as the parents, which is nice to see as a mum of two teens. Don't forget to grab anything else you need here, like bottled water and pre-packaged snacks to take on board. Hot tip – if you need to stock up on first aid incidentals you may have forgotten like Panadol, band aids or travel sickness tablets, News Travels has a good range of travel health products.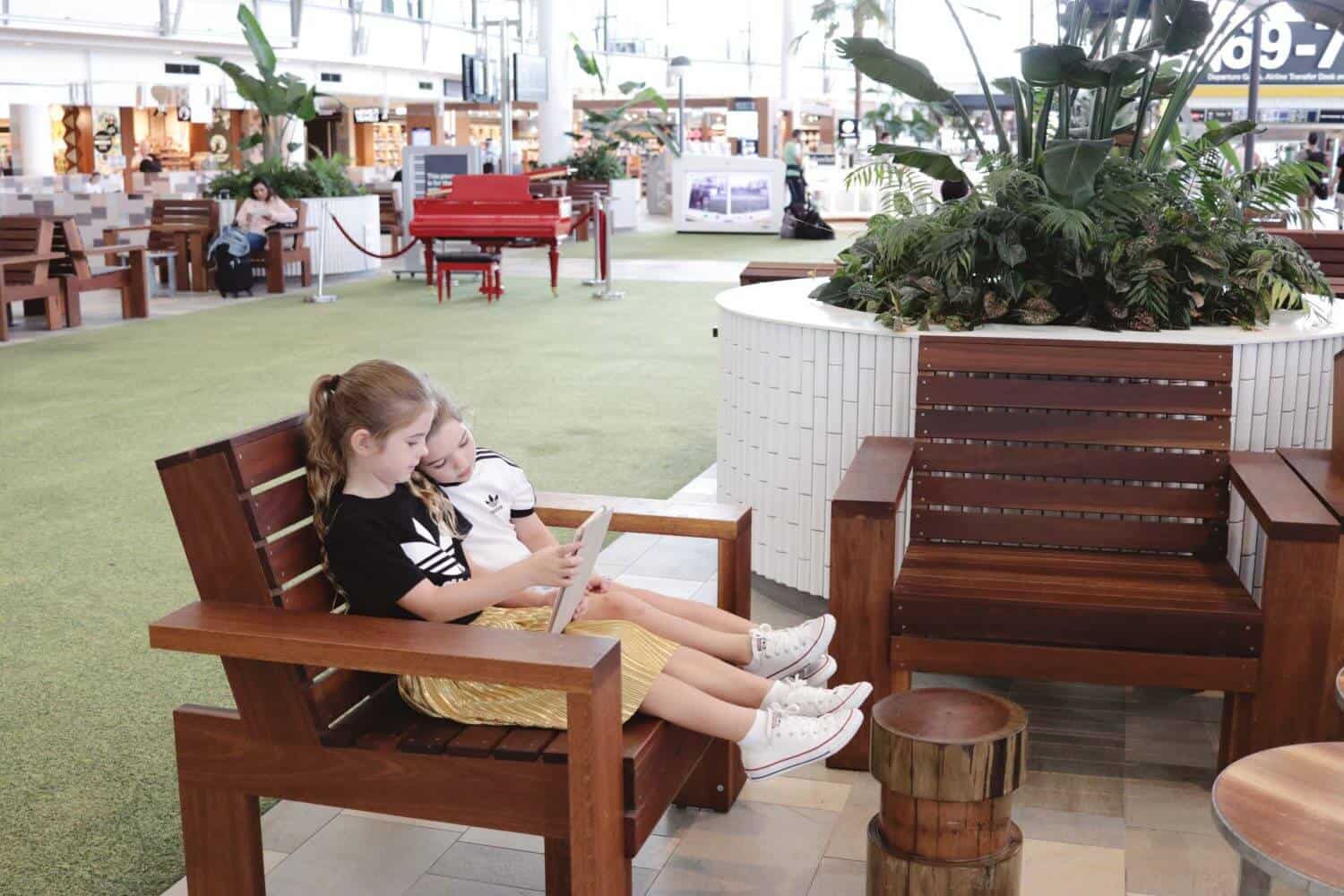 Charge the devices
You'll find plenty of places around to charge your devices before boarding the flight and tables with charging areas built in. This is a must if you're going on a long-haul flight and you want the devices to last the trip. Take advantage of BNE Airport's free WiFi to download some last minute Netflix shows and movies to keep the kids entertained with their favourite shows on board.
Explore the terminal
There's no need to sit down in one spot for hours waiting for your flight when there are so many things to do at the International Terminal. Let the kids walk from one end of the terminal to the other and stretch out your legs. Make sure you have your wallet handy because you will spot some shops you want to check out on the way and no doubt end up buying a few things.
I hope this post helps you tackle Brisbane International Terminal with kids the smart way! If you have any tips to add, I'd love to hear them.